Brigadier-General Thomas F. Toon
of Columbus County
Cape Fear Historical Institute Papers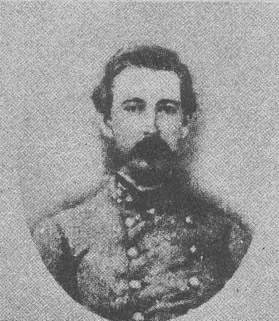 Brigadier-General Thomas Fentress Toon
Born June 10, 1840 on the family farm near Whiteville in
Columbus County, Thomas Fentress Toon was a farmer prior
to attending Wake Forest College, rising to the senior class
at that school when he enlisted as a private in the
"Columbus Guards No. 2" on April 24, 1861.
He returned to Wake Forest to graduate in June 1861
and then rejoined his company.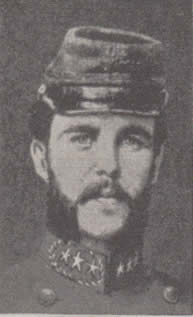 Early War Service:
Toon's original 10th North Carolina Volunteers was organized at
Fort Johnston in Smithville (now Southport) at the mouth of the
Cape Fear River on 18 June 1861 for twelve month's service;
his "Columbus Guards, No. 2" eventually became
Company K, 20th North Carolina Regiment in November.
Toon was elected Lieutenant on 18 June; then Captain to rank
from 22 July. A fellow officer in the regiment was
half-brother William H. Toon of Bladen County, who
eventually rose to lieutenant-colonel of the regiment and
leader of General Lee's famed sharpshooters later in the war.
The regiment received its training
as infantry and artillery units at Forts Johnston and Caswell,
Oak Island and Smith's Island (now Bald Head Island).
On 14 June 1862, Toon and his regiment proceeded
under orders to Richmond and assignment to General
Samuel Garland's brigade of General Daniel H. Hill's
division. On 25 June the brigade moved toward
Williamsburg to support General Benjamin Huger's
action at King's School House. The regiment was
then-commanded by Colonel Alfred Iverson and
Lt. Colonel Franklin Faison.
The 20th North Carolina included volunteer units from
Columbus and surrounding counties, e.g., the "Sampson Greys,"
"Holmes Riflemen," "Columbus Guards," "Fair Bluff Volunteers,"
"Duplin Greys," "Brunswick Guards," "Independent Blues,"
"Bladen Light Infantry," "Moore's Creek Rifle Guards,"
"Wilmington Light Infantry," "Columbus Vigilants,"
and "Wilmington Rifle Guards."
The roster of Toon's Company K of the 20th North Carolina
were primarily farmers and laborers from Columbus County
with names like Broadhurst, Coleman, Williamson, Babson,
Batchelor, Bradshaw, Cook, Elkins, Fields, Fisher, Merritt,
Nobles, Powers, Sellers, Shaw, Stevens, Ward and Yates;
and included 19 year-old James E. Kelly in Co. K who
was born in New York City. Kelly would lose an arm in
the war and was commended for gallantry
at the battle of Winchester.
A Much-Wounded Officer:
Shot by the enemy twice in 1862, Toon ended the war
wounded a total of seven times, fighting with conspicuous
gallantry at Seven Pines, the Seven Days Campaign, South
Mountain and Fredericksburg.
To his great credit as a leader, Major Toon was elected colonel
of the regiment on 26 February 1863 when his seniors
in rank waived their own rights to promotion.
He led the 20th North Carolina Regiment during Stonewall
Jackson's famous flank attack at Chancellorsville
(depicted in the movie Gods & Generals) and was shot
three times while leading his regiment through what he later
described as "a perfect storm of shells and a mist of minie balls."
He later returned to duty and sustained wounds twice
more before the end of the war.
His regiment was heavily involved at Gettysburg from July 1-3, 1863,
and his 20th North Carolina suffered horribly during the first day's
action with 65% casualties; the 20th fought bravely in the
later Mine Run Campaign and bloody battles of the
Wilderness and Spotsylvania.
When General Robert D. Johnston (of Lincoln County) was
wounded at Spotsylvania, Colonel Toon was temporarily
promoted to brigadier general on May 31, 1864.
He commanded the brigade during Gen. Jubal Early's
Shenandoah Valley campaign and threatening
movements toward Washington City.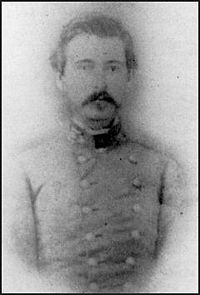 General Toon
Capturing an Enemy Regimental Flag:
General Robert E. Lee commended General Toon's leadership and courage in the following message to the Secretary of War:
Headquarters Army of Northern Virginia, May 16, 1864:
Hon. Secretary of War, Richmond, Va.
SIR: Yesterday evening the enemy penetrated a part of
our line and planted his colors upon the temporary breast-
works erected by our troops. He was immediately repulsed,
and among the brave men who met him the Twentieth
North Carolina Regiment, under Colonel Toon, of
the brigade commanded by Brig. Gen. R. D. Johnston,
captured his flag. It was brought to me by Maj. John S. Brooks,
of that regiment, who received his promotion for gallantry
in the battle of Chancellorsville, with the request that it be
given to Governor Vance. I take great pleasure in
complying with the wish of the gallant captors, and
respectfully ask that it be granted, and that these colors
be presented to the State of North Carolina
as another evidence of the valor and devotion that have
made her name eminent in the armies of the Confederacy.
Very respectfully, your obedient servant,
R. E. LEE,
General.
A Last, But Serious Wound:
When General Johnston returned to duty during the last stage of the
Valley campaign, Toon reverted to the rank of colonel and led his
regiment again at the battle of Monocacy. This campaign has been compared to the Inchon landing in Korea as General Early's
command bypassed the main enemy army and threatened
to capture the Northern capital.
Colonel Toon received his last and most serious wound on
25 March 1865 during the assault on Fort Stedman, near Petersburg.
He was sent to a hospital in Greensboro, North Carolina on April 7th
and recovered sufficiently to be present when General Joseph E.
Johnston surrendered his army at the end of the month. Toon
was paroled by Northern forces at Greensboro in May,
nearly a month after his 20th North Carolina had stacked
their arms at Appomattox.
Civilian Life After 1865:
Returning to Columbus County after the war to
rebuild his life, Toon lived there for 25 years before removing to
nearby Robeson County in 1891. Being a young man at
the beginning of the war, he is far better known for
his accomplished civilian career in education.
Toon married Carrie E. Smith of Fair Bluff and served as
principal at Fair Bluff School on Academy Street in the
mid-1880's; he was elected State Senator from Columbus
County in 1881 and reelected in 1883. A vocal advocate
of public education in North Carolina and protégé' of
Governor Charles Brantley Aycock, he was
a committed leader of public schooling for the white
and black races. Taking his commitment to education
to the political sphere, Toon was elected to the
position of North Carolina Superintendent of
Public Instruction in 1901.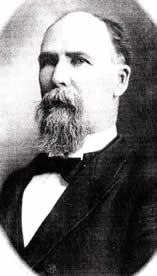 Also in 1901, Toon wrote a detailed regimental history
of the 20th North Carolina for Clark's Regiments, an official
compilation of North Carolina's struggle 1861-1865. His tribute
to the regiment noted that it was "initiated at Seven Pines,
sacrificed at Gettysburg, surrendered at Appomattox."
General Toon died of either a heart attack or pneumonia
in Raleigh on February 19, 1902, and is buried in the
Confederate section of Oakwood Cemetery in that city.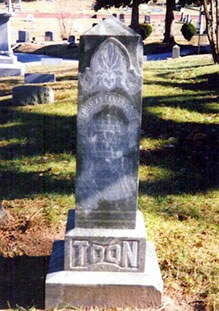 In his message to the General Assembly of 1903
Governor Aycock paid the following tribute to
General Toon's memory:

"On the 19th day of February, 1902, Gen. Thomas F. Toon, Superintendent of Public Instruction for the State, fell on sleep.
His record is one of which the state may well be proud.
He entered the Confederate Army as a young man as
a private, and without outside influence, by merit alone,
won promotion after promotion, until he
became a Brigadier-General.

He freely offered his life for the independence of
the South. He finally gave it in behalf of the education
of the children. He was engaged in canvassing the
State in advocacy of larger educational facilities
when he was attacked by pneumonia.
He ended his life as he had spent it, in patriotic
service for the State. As a soldier, as citizen, as officer,
he was always faithful and gave to the cause which
he espoused his full devotion. He died as he lived,
without other fear than that which we are told is
the beginning of wisdom." (Aycock, pg. 121)

Thomas F. Toon was honored on August 26, 2000 with a
State Historical Marker at Fair Bluff and ceremony by the
"Columbus Volunteers" Camp, North Carolina Sons
of Confederate Veterans (below).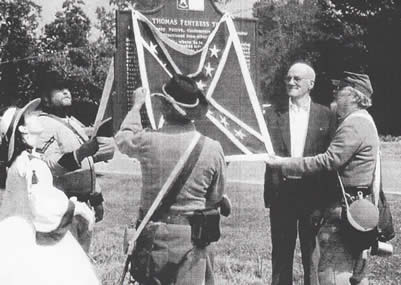 Toon is also noted at Wake Forest University as its
highest-ranking alumnus during the War Between the States.
Sources:
Generals in Grey, Ezra J. Warner, LSU Press, 1959
NC Troops, 1861-1865, W. T. Jordan, Jr., NC DA&H, 1998
North Carolina Museum of History (www.ncmoh.org)
Confederate Veteran, Vol. III, 2001
Life and Speeches of Charles B. Aycock, Conner/Poe, 1912
©2006 Cape Fear Historical Institute