Colonel Robert H. Cowan
Merchant, Soldier, Statesman
Cape Fear Historical Institute Papers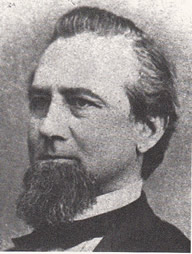 Robert H. Cowan
The Cowan clan of Wilmington originates with
William Haughey of County Down, Ireland, born there
in 1694 and passing from this life in 1786 in New Castle,
Delaware. His daughter Priscilla (1745-1785) married
John Cowan (born Northern Ireland in 1740) in Delaware
in 1765, then moving to North Carolina.
Their son Thomas Cowan (later Colonel) was born in
New Castle in 1767, and came to the Cape Fear
region about 1800, settling on 200 acres overlooking
Greenville Sound known as the "Shady Hill Trust."
He lived from 1767 to 1840.
Thomas married Sarah Sage (1774-1866) about
1790 in Onslow county. The Wilmington home of
Col. Thomas Cowan was lost in the great fire
of November 4, 1819. (Sprunt, p. 141)
Sprunt's Chronicles (p. 209) mentions Col. Cowan
at the head of the Wilmington Light Horse volunteers
escorting President James Monroe and his cortege into
the city from the Scott's Hill area on April 12, 1819,
about 12 miles north of Wilmington.
They entered the town on the New Bern Road,
Market Street, the town boundary then being about
Fifth Street, thence up Front Street to the Wilmington
Hotel and the Grand Reception. The President
was the guest of Robert Cochrane at his home on
Second Street between Chestnut and Mulberry.
Secretary of War John C. Calhoun was with the cortege,
and the guest of Dr. Armand J. DeRosset at his home
on the corner of Third and Market Streets.
Col. Thomas Cowan and wife owned a home on
the north side Market Street between Front and Second,
to the west of and adjacent to present-day St. John's
Masonic Hall. (McKoy, p. 47)
Of the union of Thomas and Sarah came John Cowan
(1799-1834), a Wilmington merchant and later Cashier
of the Wilmington branch of the North Carolina Bank.
He died in 1834 at age 35. Both Thomas and son
John Cowan's names appear on the inner circle
who helped erect Wilmington's First Presbyterian
Church in 1818. That congregation was formally
recognized the year before, and had been worshipping
in the Episcopal Church.
John was an active member of the Thalian Association
theatrical corps and "admirable in genteel comedy.
His fine figure, graceful manner, and correct gesticulations
appeared to great advantage on stage." (Sprunt, p. 250)
Robert H. Cowan Sr. was born 1801 in Wilmington
and was educated at the University of North Carolina,
graduating with an A.B. in 1821. A lawyer, he served
in the North Carolina House of Commons 1824-1825,
died in 1843. His wife Sarah (Sallie, 1800-1874) was
the daughter of Governor David Stone and Hannah Turner.
The Stone family's roots were in old New England, and
Sarah's father Zedekiah Stone came to Bertie county
from Massachusetts. Her father was governor of
North Carolina 1808 to 1810.
The Cowan home was on the north side of Chestnut
Street between Front and Second Streets, and in the
approximate location of the present-day Copper Penny
restaurant. Their home burned in May, 1844.
Son Robert H. Cowan, Jr.was born August 23, 1824,
educated in local schools and went on to graduate from
the University of North Carolina, receiving an A.B. in 1844.
He married Elizabeth (Eliza) Jane Dickinson (1823-1883)
on May 7, 1845 at St. James Church in Wilmington, she the
daughter of Platt K. Dickinson and Jane Vance. Dickinson
was a Northerner who came to Wilmington in the early
1830's and invested much energy in the lumber business,
and initiating what would become the
Wilmington & Weldon Railroad.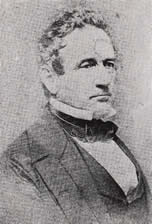 Platt Dickinson
Platt Dickinson's home occupied the NE corner of
Front and Chestnut Streets, now the old Murchison
building. It burned in 1844 and was replaced with an
"expansive mansion." (Schenck, p. 71)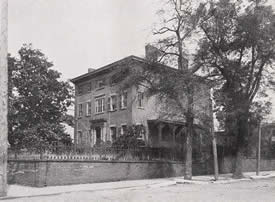 Robert H. and Eliza's daughter Mary W. was born
in 1859 and later married Junius Davis, son of the
distinguished Wilmington attorney, orator and
statesman, George Davis) in 1893.
Wilmington Merchant and Civic Leader:
At the 8 November 1841 "Annual meeting of the
stockholders of the Wilmington & Weldon Railroad
Company, Edward B. Dudley was elected to replace
retiring Gen. James Owen as president. The following
gentlemen were elected directors Platt K. Dickinson,
Alexander Anderson, Thomas H. Wright, Robert H.
Cowan, Samuel Potter (of Smithville), and B.F. Moore
(of Halifax). (Sprunt, p. 151)
Cowan served as a Town Commissioner and was
among the many Wilmington business and political
leaders of the Committee of Twenty-four who officially
welcomed President Millard Fillmore to Wilmington on
the 12th of May, 1854. The Committee included George
Davis, William A. Wright, Robert Strange, Jr., Gaston
Meares, Stephen D. Wallace, Edward Kidder,
and Oliver .P. Meares.
On the 24th of April, 1850, Cowan accompanied the
remains of Senator John C. Calhoun to Charleston on the
steamer Nina as part of the Wilmington Committee
headed by Dr. Armand J. DeRosset.
During the 1840s and 50s he was an active member
of the Thalian Association like his uncle John, "a very
popular member of the association and bore a prominent
part in all their representations." (Sprunt, p. 251)
Robert H. Cowan and Donald MacRae were appointed
by the Association in December, 1854 to secure plans for
a new building to house both the town hall and Thalian Hall
and located at the corner of Third and Princess Streets.
The cornerstone was finally laid on December 27, 1855
and the building substantially-completed in April, 1858.
From Sprunt's Chronicles of the Cape Fear:
"On the occasion of [Gov. Edward B. Dudley's] death,
Robert H. Cowan was selected by the citizens of
Wilmington to deliver an address commemorative of his
life and character, and performed that public service
on the eighth day of November, 1855.
"Addressing the stockholders of the W&W RR Company,
Colonel Cowan said: "You must remember that yours
was the pioneer work in North Carolina, that it was an
experiment, that it was undertaken without sufficient means,
that it was condemned beforehand as a failure, that it
encountered troubles, trials, difficulties of the most
extraordinary character; that nothing but indomitable
energy, the most liberal enterprise, the most unceasing
patience, the most determined spirit of perseverance,
could have enabled it to surmount these difficulties.
[Col. Cowan continued:] Governor Dudley brought all
these qualifications to the task and commanded the success
which he so eminently deserved. He committed a
considerable portion of his large estate to its completion.
When your offices, your warehouses, and all of your
machinery….were laid in ruins by the terrible fire of 1843;
when a heap of smoldering embers marked the spot
where all of your possessions in Wilmington the day
before had stood; when your most ardent friends had
begun to despair; when your own merchants had
refused to credit you….when your long-sinking credit
was at last destroyed and your failure seemed
inevitable – Governor Dudley came forward and
pledged the whole of his private estate as your
security, and thus, with renewed confidence in your
solvency, you were enabled to go on to that
complete success which awaited you entirely
through his exertions."
(Sprunt, pp. 226-231)
A vestryman at the organization of St. John's Episcopal
parish in mid-February, 1860, Cowan signed the solemn
declaration along with William Lord DeRosset and Sewall
L. Fremont, and he served as a delegate to the Diocesan
Council held in Charlotte in May 1860. (Sprunt, p. 611)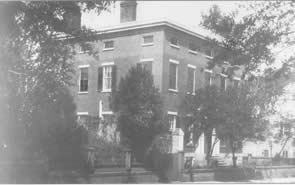 R.H. Cowan Home on Front Street
War Clouds Gather:
Like many Wilmington political leaders Cowan was
a Unionist Whig who saw no need for withdrawing
from the old Union, and on March 2, 1861
Cowan joined other Wilmington leaders in a formal
request to Washington Peace Congress commissioner
George Davis for a public address to the citizens
of Wilmington on the results of that Congress in
seeking peace between North and South.
The Congress was a failure due to Republican
obstinacy and refusal to compromise to save the
Union. This drove Cowan and other North Carolina
Unionists to embrace the secession of the State –
he was elected to the Convention of May, 1861
which formally withdrew North Carolina
from the United States.
The Daily Journal obituary notice of November 12, 1872
reveals Cowan's thoughts and states that:
"Being an earnest and thorough Southerner, when
the "John Brown raid" occurred he openly declared
his conviction that the time had come for the Southern
people to act in unison, regardless of old partisan differences,
and thence-forward, with the manly candor which
characterized him in all the relations of life, he stood
forward as one of the boldest and bravest defenders
of our people and section."
Military Service:
After North Carolina joined the withdrawing Southern
States forming the Confederacy, Robert H. Cowan was
elected lieutenant-colonel of the Third North Carolina
Regiment on 16 May, 1861, serving with fellow
Wilmingtonians and Gaston Meares, William Lord
DeRosset, Stephen D. Thruston, William M. Parsley
and Edward Savage. Colonel Gaston Meares led the
regiment early in the war and was killed in action
at Malvern Hill; William Lord DeRosset
rose to command as colonel.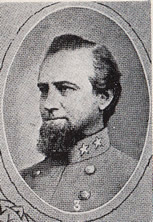 Lieutenant-Colonel Robert H. Cowan was elected
colonel of the reorganized Eighteenth North Carolina
at Kinston in April 24, 1862, Lieutenant-Colonel
Thomas Purdie of Bladen County (born near
present-day Tarheel) was his second in command.
The Eighteenth's first commander was former
Wilmington military school principal Colonel
James D. Radcliffe, who was defeated for
reelection by Cowan after the reorganization.
Radcliffe later became Colonel of the Sixty-first
North Carolina Regiment.
Cowan was highly-respected by the rank and file
of the Third who "recognized him as one of those by
whom the regiment had been brought to its fine efficiency.
The esteem in which he was held was manifested on his
departure by the presentation to him by the regiment
of a very fine horse." (Sprunt, p. 299)
The Eighteenth North Carolina rank and file consisted
of Cape Fear-area men and volunteer militia units
from surrounding counties: the German Volunteers from
New Hanover County; Bladen Light Infantry;
Columbus Guards No. 3; Robeson Rifle Guards;
Moore's Creek Rifle Guards; Moore's Creek
Riflemen; Scotch Boys (Richmond county);
Wilmington Light Infantry; Columbus Guards No. 1;
Wilmington Rifle Guards; and the Bladen Guards.
Cowan's Eighteenth North Carolina became part of
the Second North Carolina Brigade and was assigned
to General A.P. Hill's "Light Division" -- its baptism
of fire occurred at the battle of Hanover Court
House on 27 May 1862.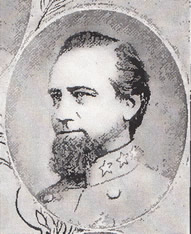 General Lawrence O'Bryan Branch in his report of
that battle says of it: "Colonel Cowan with the Eighteenth
made the charge most gallantly, but the enemy's force
was much larger than had been supposed, and strongly
posted, and the gallant Eighteenth was compelled to
seek shelter. It continued to pour heavy volleys from
the edge of the woods and must have done great execution.
The combined volley from the Eighteenth and Thirty-seventh
compelled the enemy to leave his [artillery] battery for
a time, and take shelter behind a ditch bank."
Orders were then sent to Cowan to withdraw
in order; "Colonel Cowan….attracted my attention by
the perfect order in which he brought out his regiment,
notwithstanding the severe and long-continued fire he
had received from both infantry and artillery."
The enemy made a stand at Mechanicsville, then withdrew
to Cold Harbor where Cowan's Eighteenth charged a
strongly entrenched position. Colonel Cowan in his report
of the battle said:
"Friday afternoon at 4 o'clock we were put in the fight
at Cold Harbor. By your order my line of battle was
formed….[and my regiment] advanced through the
dense woods, in which the enemy were posted. Again
and again was that position assailed, and again and
again were we repulsed by vastly superior numbers.
[After reinforcements, the enemy] position was
carried in that last charge which swept his whole
army from the field in perfect rout."
Cowan's last official report to General Branch was
after the battle of Frayser's Farm, fought on 30 June 1862
and apparently where Col. Cowan was severely wounded.
Cowan's daughter Jane Dickinson DeRosset later
wrote of him being struck by cannon-shell fragments
near Richmond (likely Frayser's Farm) in 1862, and
left for dead on the field. She said that the wounds
"shattered his whole system, and the surgeons
pronounced him unfit for service, but after a short
visit home he returned to his regiment and went with
[General Stonewall] Jackson into Maryland.
On returning to Virginia his fast falling health compelled
him to resign. As he passed through Richmond on his
way home he found a commission as Brigadier-General
made out and ready to be forwarded to him.
Organized with 1100 men under arms, the Eighteenth
North Carolina had suffered greatly and lost 57%
of the 396 engaged during the Seven Days' battles.
General Branch noted that during the Seven Days' battles
his brigade had 2 colonels killed, two wounded
(including Cowan), one captured, all while the
entire brigade suffered almost 50 percent casualties.
Col. Cowan submitted his resignation on 1 November
due to "congestion of the liver and chronic diarrhea"
and it was accepted on 11 November -- the colonelcy
devolving upon Thomas J. Purdie of Bladen county.
(North Carolina Troops 1861-65, page 305, Volume 6)
Retired from active service, Cowan returned to Wilmington
and became president of the Wilmington, Charlotte and
Rutherfordton Railroad, moving his family to a home
near Laurinburg, North Carolina to oversee rail operations.
Postwar:
According to the Alumni History of the University of
North Carolina, Cowan was elected to the North Carolina
House first in 1866 (Alumni History, p. 134), and in
1869 and 1870, serving as Chairman of the
Committee on Finance.
In November 1869 his daughter Cornelia married
Capt. James I. Metts (1843-1921, native of Kinston),
an officer under Colonel Cowan's command during the
war. Metts was in a mercantile partnership with Col.
Cowan with their business located in the St. John's
Masonic Hall building on Market Street in 1869
(Wrenn, p. 201).
Capt. Metts was later commander of the North Carolina United Confederate Veterans organization.
Cowan was an early member of the prestigious
Cape Fear Club of Wilmington, organized March 3,
1866 "with a view to promote social intercourse
among its members." The 1868 roster of members
lists Col. Cowan along with other distinguished
Cape Fear military leaders Col. John Lucas
Cantwell, Col. William B. Flanner, General
William MacRae, Col. J.G. Burr, Col. J.R.
Davis, Col. Alfred Moore Waddell, and Col.
Robert Strange. Col. Cowan was elected to the
presidency of the Cape Fear Club in 1869.
Col. Cowan became president of the Wilmington Life
Insurance Company in November, 1871, serving in
that position until his death on November 11, 1872.
Buried in Oakdale Cemetery, "No man was more
loved and admired than he. His gallantry was unequaled,
while his charming personality and graceful manners are
well remembered by all who knew him." (Sprunt, p. 300)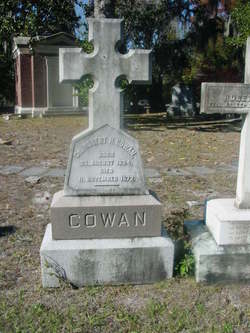 "Obituary of Colonel Robert H. Cowan:
Carolina Messenger, Goldsboro, Wayne County,
NC, November 14, 1872
New Hanover Co.:
Col. Robert H. Cowan
It is our painful duty to record from time to time the
loss of some very worthy and useful citizen[s], whose
form has long been familiar to the public, and
whose name has become a household word among
our inhabitants. Of this class was the late Col.
Robt. H. Cowan of Wilmington, N.C., who died
at his residence in that city last Monday
morning, aged 48 years.
Col. Cowan was a man of great talents and
generally esteemed wherever known, winning
friends by his courteous manners, kindness
and generosity, and retaining them by his integrity
and liberality. He was of a pure and elevated
character, considerate to the poor, generous to the
unfortunate, and charitable in all his sentiments –
one of the class who adorn and strengthen the
association or society or city of which they are
members, and who leave the world better for
their having lived in it. His death is a sad blow
to our State and the section in which he resided."
Addendum:
Col. Cowan's daughter Jane Dickinson DeRosset
later wrote of her family's experiences at the hands
of Sherman's marauders in early 1865 at their
home near Laurinburg:
One Account of Sherman's Raid
"Severely wounded in Virginia and forced to resign
from service, Colonel Robert H. Cowan of the
18th North Carolina Regiment became president
of the Wilmington, Charlotte and Rutherfordton Railroad
Company in the spring of 1863, and removed his family
to a home about 5 miles from Laurinburg in Scotland
county, and about twenty miles from Cheraw, South
Carolina. From here he oversaw railroad operations
for the remained of the war.
His daughter Jane Dickinson DeRosset was a young
girl at that time and recalled the following:
"I shall never forget when Sherman's army reached
[Cheraw, and opposed primarily by General
Wade Hampton's cavalry forces, under General
Joseph E. Johnston], during the first week of
March in 1865.
We sat and listened all day to the booming of the
cannon, with aching hearts and fervent prayers that
the enemy might be driven back – the utter desolation
when we knew that Johnston's Army had passed by
and we were left alone to face the dreaded foe!
Late that afternoon I sat on the front steps at my
father's feet trying to comfort him and to receive
comfort from him, for we were in the deepest distress,
our whole country devastated, our dear Southern
boys retreating, but contesting every inch of ground,
falling by the wayside, gladly giving up their life-blood
for the land they loved so well. The brave, noble
remnant struggling on, overpowered by numbers,
yet full of faith and trust in their leaders, striving
to reach Lee and join forces.
Then all would be well.
Besides this the angel of Death lowered over our house.
My youngest sister (now Mrs. Junius Davis) and
brother had been ill for weeks with scarlet fever,
and our physician had that day given up all hope of
saving them. The burden seemed greater
than we could bear.
Every minute we expected [my sister and brother]
to leave us and the Federal troops to be upon us.
Once we heard the tramping of horses [for as the] day
broke I looked out the window and and from every
direction the hated blue uniforms were coming.
They seemed to spring out of the ground and in a few
seconds our house was full of them.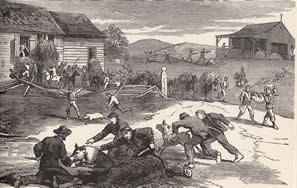 They were everywhere, upstairs and downstairs,
rummaging through closets, trunks, bureaus,
wardrobes, anywhere, until every piece of silver,
jewelry, clothing and everything else, including food,
was gone. We spent the whole ay without one
mouthful to eat. Our [black] servants came crying
and saying they tried to bring us something, but
the [Northern] men would snatch it from them.
My mother had a spoon in which she was mixing
medicine for her sick children snatched from her,
and she was obliged to mix it in her hand and put it
into their mouths with her finger. They pulled the rings
from her fingers as she was holding in her lap, and
kicked the cradle in which the other one was lying,
with the remark, "That one is dead already."
One of the soldiers engaged in this indignity had
meanwhile stood with his loaded musket beside the
chair in which my mother sat. They were yelling, cursing,
drinking, pitching trunks and boxes from the attic down
two flights of stairs to the first floor, breaking them
open and putting all that could be carried in that way
about their persons, piling up the rest
and making bonfires of them.
We had trunks of valuables belonging to General
[William H.C.] Whiting], which he had sent us for
safe-keeping when the city of Wilmington had fallen
into the hands of the foe; also had all that Bishop
Watson, who was at that time rector of Saint James
Church in Wilmington, had saved when the town
of New Berne, N.C., fell.
One of them rushed into the room where we were
all gathered together, dressed in the Confederate
uniform of my uncle, Captain John Cowan,
and going up to my grandmother, slapped her
face with Confederate money which he had found
somewhere about the house, grabbed at her
watch guard, which she thought she had hidden,
and pulled it with the watch from her neck.
I was thankful my father was then out of the room,
but he soon came in with a Federal soldier, who
had promised him to protect us; though he really had
no authority in doing so (this man we found
afterwards was a North Carolinian and a
deserter from the Confederate army).
There were five watches taken from us at that time.
Another [soldier] came up to me, a girl of sixteen, and
told me to give him a ring, which I did not have.
My younger sister…said that if he would leaves
me alone she would give him one, and as he
took it, he threw his arms around her saying he
was a Philadelphia boy and had just come out of
the penitentiary, which we could well believe.
My father sprang forward….[and] I thought we
would all be killed, but Providence watched over us.
I saw a [soldier] put a pistol to my father's head and
another knock it aside just as it went off. We had
begged father the night before to leave us
and go into the woods with our brother and uncle, for
we were afraid he would be killed,
but he would not go.
[My father] had been in the [Secession] Convention
of 1861, which had carried the State out of the Union,
and the soldiers had found one of his speeches and
had fastened it up on the wall where it could be read
by all, and when our uncle, Dr. McRee, asked for
a guard for our house and told the officers how
outrageously their men were behaving, they answered
that they did not care what they did at our house,
for they had heard of Colonel Cowan all
through South Carolina.
As night came, the [deserter] guard told my father
he must take his family out of that house….[and that]
when the rest of the army came up that night he would
not answer for the consequences, so after dark
we stole quietly through [the enemy] camp to an old
temperance hall about a quarter mile away. It had
been roughly fixed up as a dwelling for Dr. McRee's
family, and in that old shanty we remained for a
week (while the Union Army was passing),
with nothing to eat, nothing to wear, nothing to
look forward to but death.
Sometimes our servants would steal a chicken or
turkey from the soldiers and bring it to us, and we
would hold in with our hands over the fire until it was
cooked enough for us to eat, and that would be
all we would have for a day or two.
At last one afternoon the Negro regiments were
coming up and they surrounded the old hall yelling
that we had gold hid and they were going to
have it. I certainly thought then, as we looked
out on that sea of black faces, that our time had
come, and that death or worse was near.
We barred the doors and windows, and my father
got out and walked through those regiments until he
found a general, who after hearing him, ordered
the Negroes away, and with his staff spent the night
in the lower part of the old hall. [They enjoyed]
a good supper, we upstairs had not tasted
food all day….[and the Northern] general sent a
few pieces of dry baker's bread….
The next day the last of Sherman's army left us, a
nd we started back to our home, which the troops
had tried to burn down, but our servants had
saved for us. We had nothing but the clothes we
had on and a few articles of clothing for the children,
and we came to an empty house.
The heavy furniture which could not be carried off
was there, and Bibles, Prayer-books and
pictures, torn, broken and covered
with mustard and molasses.
We had no food but the corn their horses had
dropped while eating, which we picked up,
washed and ground, and a few potato slips,
nothing else. When we found a room that was
not full of feathers from the beds that had
been torn open [looking for valuables], we
threw ourselves down and rested, thanking God
that we were alive and had a roof over our heads.
My father told his servants to try to get to Wilmington,
where they were known, and could make a living,
for he did not know he would get meat and bread
for his own family and could not help them, though
he would do what he could for those who
remained with us."
Jane Dickinson DeRosset
(Richmond County, North Carolina Genealogy website www.ncgenweb.us)
Sources:
Chronicles of the Cape Fear River, James Sprunt, 1916
Nicholas W. Schenck Diary, UNC web collections.
Alumni History of the University of North Carolina, D. Grant, editor, 1924 Clark's History of NC Regiments, Vol. II, Nash Brothers, 1902
NC Troops, 1861-65, Vol. 6, NCDAH, 1986
©2006 Cape Fear Historical Institute